Happy Birthday Floyd "The Gentleman of Boxing" Patterson Born January 4, 1935 was an American professional boxer and former Undisputed Heavyweight Champion. At 21, Patterson became the youngest man to win the world heavyweight title. He was also the first heavyweight boxer to regain the title. He had a record of 55 wins, 8 losses and 1 draw, with 40 wins by knockout. He won the gold medal at the 1952 Olympic Games as a middleweight.
Although Mike Tyson later became the youngest boxer to win a world heavyweight title (when he defeated Trevor Berbick via second-round TKO, becoming the WBC Heavyweight Champion of the World at 20 years, 4 months, 3 weeks and 2 days old) Patterson remains the youngest Undisputed Heavyweight Champion.
Early life
Born into a poor family in Waco, North Carolina, Patterson was the youngest of eleven children and experienced an insular and troubled childhood. His family moved to Brooklyn, New York, where Floyd was a truant and petty thief. At age ten, he was sent to the Wiltwyck School for Boys, a reform school in upstate New York, which he credited with turning his life around. He stayed there for almost 2 years. He attended high school in New Paltz, NY where he succeeded in all sports.(to this day the New Paltz football field is named in his honor) At age fourteen, he started to box, trained by Cus D'Amato at his Gramercy Gym. Aged just 17, Patterson won the Gold medal in the 1952 Helsinki Olympics as a middleweight. 1952 turned out to be a good year for the young Patterson; in addition to Olympic gold Patterson won the National Amateur Middleweight Championship and New York Golden Gloves Middleweight Championship.
Early pro career
Patterson turned pro and steadily rose through the ranks, his only early defeat being an eight-round decision to former Light Heavyweight Champion Joey Maxim on June 7, 1954, at the Eastern Parkway Arena in Brooklyn, New York.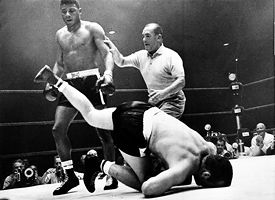 [above] Patterson-Johansson III in 1961 was the best fight in the triology.
The boxing exploits of Floyd Patterson (standing, after knocking out Ingemar Johansson to reclaim the heavyweight title in 1960) are the highlights of W.K. Stratton's book
Floyd Patterson, right, possessed one of the most celebrated left hooks in boxing history.
WHAT'S POPULAR ON THE BFHS NETWORK RIGHT NOW!
The BFHS Network likes Ticket Leap because of their Flat Fees, ease...