The TEW Crew is so excited for the launch of TEW Volume 2!
The TEW Crew in conjunction with 220 Publishing invite you to join us for a wonderful day party in honor of the TEW Movement as we continue to empower, equip and inspire entrepreneurs around the United States and abroad!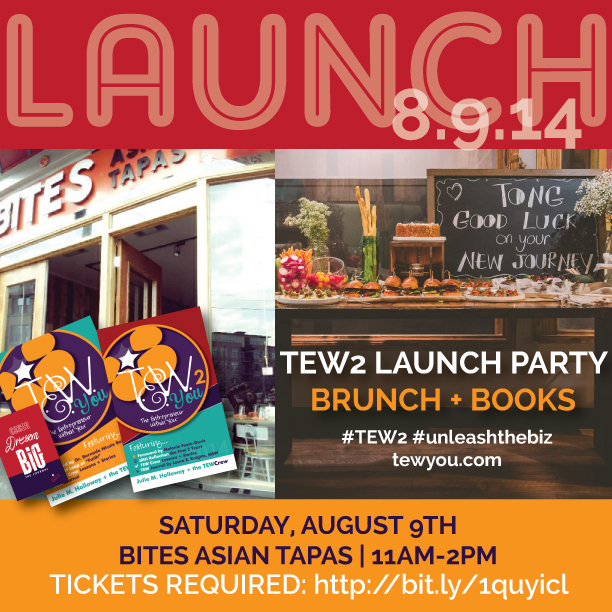 SATURDAY, AUGUST 9TH | 11am-2pm
BITES ASIAN TAPAS | Chicago, IL
Join us for a refreshing day of light bites, author interviews and inspired networking!
 VIP TICKETS INCLUDE: 1 copy of TEW2, light bites, beverages and goodies! Other ticket options available above including #TEWkids admission (additional tickets available above).
MENU
Drunk Chicks: Fried Boneless Chicken, Served with Asian Whiskey Sauce
Green Gyoza: Edamame, Mixed Vegetables, Honey Wasabi Mayo & Caramelized Whiskey
Soy Sauce
Takoyaki: Octopus, Onion, Tonkatsu Sauce, Mayo
Watermelon Salad: Yuzu dressing, Sesame Seed, Mint
 Tickets required for entry. No door sales. Books will be available for purchase.
Join the movement at www.tewyou.com
 TOUCH THE SKY! #unleashtheBIZ