A multi-instrumentalist, producer, and vocalist for the soulful black gospel group Commissioned during the 1980s and '90s, Fred Hammond also became one of the most popular praise & worship leaders in the field. Born in Detroit, Hammond began singing with his church choir at the age of 12. He played bass and sang with the Winans during the early '80s, then joined Commissioned later in the decade, showcasing his superb arranging, production, and songwriting skill as well as his soaring vocals. Hammond's concurrent solo career began in 1991 with I Am Persuaded, and he released additional albums for Benson, gradually embracing an in-concert feel even on his studio recordings. His fifth studio album, Purpose by Design, was released under the Verity label in 2000. In Case You Missed It...and Then Some followed in 2001. Hammond set up his own label imprint, Hammond Family Entertainment, and released the CD/DVD set Life in the Word in 2010. ~ John Bush, Rovi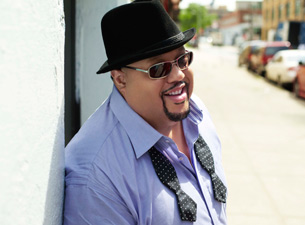 The BFHS Network likes Ticket Leap because of their Flat Fees, ease of use and most of all they get Social Media -Just like US, at the very least give Ticket Leap a Shot with your next event, because TL is a better way to take tickets and it works perfectly with paypal with a lot less clutter and mess!
Great Music, Great Ministering!
Country Club Hills Theatre
Apart from the warm evening, the atmosphere was nothing but spectacular. This is by far one of the best concerts I have ever been to. This was probably the first gospel concert ever performed at the Country Club Hills theatre. Nevertheless, Fred Hammond performed admirably and I think his performance was defitenly a site to see and a treat. Also, other performances such as the ACME Missionary Baptist Church and the Flow singers were also an enjoyable part of the main act. I would to see them again.